WRAP REPORT: DOCUMENTARY OUTREACH TO GUATEMALA 2023
In San Juan la Laguna, Guatemala, June ushered in high hopes. Summer tourists flooded the small mountain town, igniting a bustling business scene. The annual town festival and a historic presidential election in June kept excitement levels soaring. Day and night, thunderous fireworks punctuated the countdown to these dual celebrations.
The rainy season was late in arriving, making for hot days, dusty, dry streets and dwindling public water reserves, underscoring the town's delicate balance with nature.
Amidst this whirlwind, Actuality Abroad's twenty crew members arrived, bringing cameras and curiosity, ready to document the vibrant tapestry of life, culture and change in San Juan la Laguna.
In the heart of Guatemala, our band of citizen storytellers converged first in the enchanting city of Antigua. Located conveniently near the international airport, this hub of tourism was our starting point. Upon arrival and after a brief rendezvous at our humble hostel, the group wasted no time in embarking on a day-long exploration of this old, charming city.
As twilight descended, everyone gathered for a hearty welcome dinner at a delightful tortilleria known as El Comalote. Between savory bites we delved into a lively discussion about "embracing the adventure," forging connections that would shape our journey ahead. 
Afterward, Antigua's vibrant nightlife beckoned to some, while others, succumbing to jet lag, chose to recharge for the adventures awaiting them the next day.
In the morning, our group loaded into private shuttles and headed off to Lake Atitlan. On the way, the group made an important stop at Iximche, a renowned Maya archaeological site. Guiding us through this historical marvel was a favorite local guide Alex Saqbe. For Alex, this wasn't just a job – it was a lifelong connection. Growing up 'in the neighborhood, he considered these ruins his backyard, a place where his roots intertwined with the profound significance it held for his people. His intimate knowledge breathed life into the ancient stones, transforming our visit into a journey through time and culture.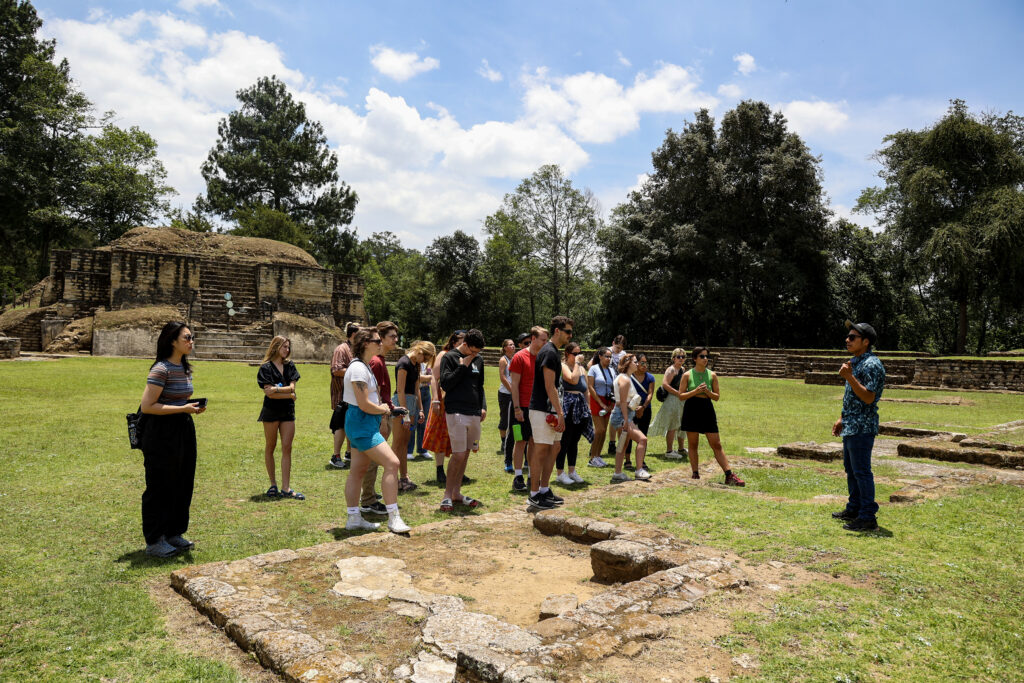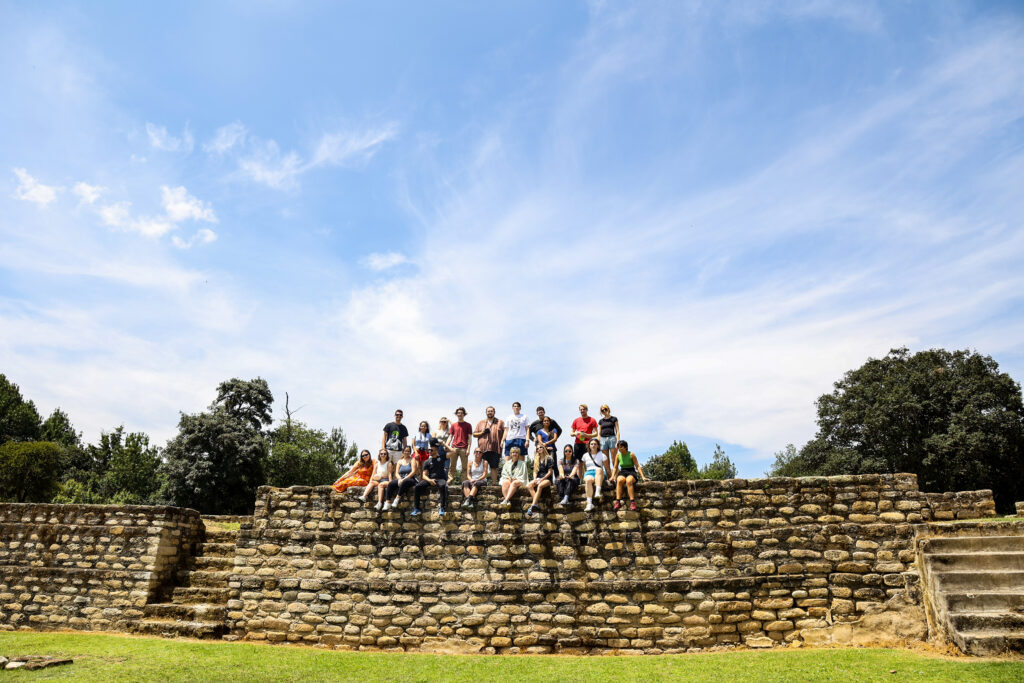 After a thrilling (for some) van ride through winding mountain roads that offered stunning vistas, we arrived in San Juan La Laguna and our Documentary Outreach basecamp. 
The week kicked off with morning briefings on Documentary Storytelling and Connective Communication, setting the stage for the work ahead.
With a sense of anticipation, crew members met their changemaker collaborators for the first time. These weren't just names; they were the faces behind five inspiring social impact organizations in these communities:
MealFlour: An alternative agriculture group pioneering mealworm farming to tackle rural food insecurity.
Suenos y Esperanzas: A nonprofit school in San Juan La Laguna focusing on community-based education.
Alma De Colores: A restaurant that provides meaningful employment opportunities for deaf and disabled individuals in their community.

 

Eco Spanish School: A language school intertwining Maya culture and social impact into its curriculum for foreign learners.
Tejiendo Futuros: A holistic community development organization addressing food security, medical services, social entrepreneurship, and environmental conservation.
Representatives from these organizations acted as guides, leading our crews to their sites. While most crews had a short walk within the town, the Tejiendo Futuros team embarked on daily boat rides across the lake to their collaborator in Panajachel.
During Research Week, each morning started with educational briefings that explored the nuances of the documentary research process, from defining purpose to crafting compelling narratives.
As the days unfolded, crews continued visiting their changemakers, connecting with the individuals driving these transformative initiatives. Stories emerged naturally, with some crews finding their subjects easily while others navigated a more challenging path. By week's end, after numerous visits and discussions, each crew had a clear direction.
When the weekend arrived, our crews, now intimately acquainted with Lake Atitlan's changemakers, took the opportunity to explore nearby villages, swim in the pristine lake, and wander the breathtaking landscape with no agenda. It was a moment of reflection amidst the region's natural beauty, where inspiration continued to flourish.
During Planning Week, film crews remain focused on writing out their story as they diligently prepared for their upcoming filming. This crucial phase involves crafting detailed film summaries, formulating interview questions, compiling scene lists, and establishing daily schedules. Additionally, crews take a brief hiatus from planning to collaboratively produce micro-documentaries, offering a valuable opportunity for on-set teamwork and experience.
The week began with most crews displaying a high level of confidence in their stories and their plans for their respective documentary films.
The Tejiendos Futuros crew had a clear sense of their film's general direction and storyline, but there was still important groundwork to be laid. A return to Panajachel was essential, to connect with local families and decide which student's home and family to feature in their documentary. Moreover, they needed to make a deeper exploration of the main character's journey, as it held the potential to infuse their film with profound significance.
In the midst of this busy week, the Tejiendos crew carved out a day to film at Cafe Maná, a favored local coffee shop that first welcomed Actuality Abroad students back in 2013. This detour provided a unique glimpse into the community's heart and soul, adding a layer of authenticity to their project. As the week unfolded, the crew diligently refined their narrative, making the tough decision to trim certain individuals from the film to sharpen their focus.
The Eco Spanish School crew was continuing along a positive trajectory. Their ambitious plan brimmed with people and content, though at a glance it was more than one could reasonably pack into a concise, 10-minute documentary. Nevertheless, the crew maintained their optimism, driven by a steadfast commitment to their vision.
Facing a tight deadline, and as two key individuals were scheduled to leave Guatemala in a matter of days, the crew made a strategic decision. They opted to channel their efforts into crafting their micro-documentary to spotlight these two departing figures, ensuring that their unique stories wouldn't be left untold.
By week's end the crew had successfully outlined the first half of their filming schedule. Yet, the full story of their documentary was still undecided, leaving key decisions about the rest of filming week to be deliberated..
The Sueños y Esperanzas crew soon found themselves at a crossroads, opting not to center their primary film around Fredy, the organization's founder. While they held immense respect for him, they determined that his personal narrative didn't align with their vision for the main project. Instead, they chose to spotlight Fredy in a micro-documentary, embarking on a scenic hike together to document an intimate and philosophical interview against a backdrop of the area's natural splendor.
With a compelling shift in focus, the crew then redirected their attention to the organization's youth. They formulated a plan to track the journeys of multiple young individuals for their primary film. Initially, the concept revolved around chronicling the day-to-day lives of these subjects, aiming to weave a "day-in-the-life" narrative. However, as they immersed themselves further into the experiences of these young individuals, the crew came to recognize the importance of refining their filming strategy to ensure a more nuanced and comprehensive portrayal of their characters.
The Alma de Colores crew had a problem unique to their group. They aimed to create a character-driven narrative but had an issue of too many good potential main characters. After conducting follow-up research meetings and discussions, they reached a consensus to center their filming plan around Marta.
This crew dedicated their micro-documentary time to film at Xunah Kaab, a local family-owned business specializing in native beekeeping and honey-based products.
The Mealflour crew grappled with a series of unforeseen challenges during their production journey. These obstacles primarily stemmed from unexpected organizational changes, causing disruptions to their initial research and plans for identifying a main character and storyline.
Working with these setbacks, the crew organized a day trip to Quetzaltenango. On this exploration they visited an active worm farm and had the opportunity to meet the family overseeing its operations. This encounter marked a turning point, as the family emerged as the central figures for both their story and documentary project. 
Amidst these challenges, this determined crew took a short walk to a local art gallery with open doors. They successfully filmed a micro-documentary project spotlighting Ketzale, a gallery with a compelling mission of social impact at its core.
Over the weekend, the crew members had a variety of activities on their agenda. While a few editors diligently continued work on the micro-documentaries, the rest of the teams took a well-deserved break. Some crew members opted for an adventure, crossing the lake for an exciting ziplining experience, while others preferred a more relaxed atmosphere, spending their time on a sandy lakeshore beach, unwinding and taking in the serene surroundings. It was a moment to recharge and rejuvenate before they resumed their documentary-making endeavors.
As the production phase commenced, all the film crews were well-prepared and eager to document their stories. They had crafted scenes and interview lists, ensured that schedules were locked in, and made sure translators were on standby. Yet, the unpredictability of filmmaking became evident, as the reality on the ground seldom stuck to the plan. The fluid nature of people's schedules meant that adjustments were sometimes necessary, and sometimes filming sessions were too broad in goals.
At the conclusion of each day's filming, a crucial routine took shape. Each crew gathered to review their documented footage in the company of their Documentary coach. This production ritual was more than just a passive viewing; it was an active discussion. The purpose was twofold: to analyze how the day's work might integrate into the overarching narrative of their documentaries, and to engage in constructive critique aimed at refining their filming process for the next day's session.
The crews remained adaptable throughout the week, ready to revise and to fine-tune their stories as they began to see the initial results of their filming. This ongoing process ensured that their documentaries evolved, aiming for ever-greater storytelling precision and resonance.
The Eco Spanish School crew immersed themselves in daily filming, documenting valuable footage at every turn. However, as they tallied up the minutes dedicated to interviews alone, it became evident that their abundance of information and storytelling material exceeded the limits of a concise documentary.
Recognizing this challenge, the crew embarked on a series of meetings throughout the week. Their objective was to streamline both the narrative and filming schedule. By the week's end, they had successfully distilled their abundance of footage to be more manageable and focused, ready for the editing process of their main documentary film.
In the lead-up to Filming Week, the Tejiendos Futuros crew encountered a last-minute twist: there would be several days in filming week that the students wouldn't be at the Tejiendos Futuros school. This development prompted a significant shift in their schedule, ultimately leading to a more defined and focused plan of action.
Navigating the logistical challenge of limited boat taxi availability on Lake Atitlán, the revised schedule now entailed an overnight stay in Panajachel to facilitate early filming the next day. The crew diligently adhered to this adjusted plan, successfully recording the necessary footage, and, as a result, they were confident in the quality of their work. As the week drew to a close, they pondered ways to elevate their footage into a truly outstanding film. Their strategy involved a two-pronged approach: scouring the internet for archival material and constructing a Paper Edit—a visual representation of their narrative using notecards posted on a wall, offering a comprehensive view of the entire story.
Filming at Alma de Colores proceeded largely according to the plan, with minor adjustments along the way – a workshop delaying it's start and pushing other filming to the next day, an interviewee rescheduling from Tuesday to Wednesday. Overall, the crew navigated these changes smoothly.
While the daily reviews of their footage during "Dailies" appeared promising, the crew gradually recognized a missing piece in their film as they constructed their own Paper Edit. This realization struck late in the week, prompting a creative pivot. They decided to expand their plans, aiming to provide a more comprehensive portrayal of Marta's life by filming moments from her home to her workplace. This additional dimension was intended to enable the audience to find a deeper connection with her on a personal level, enhancing the overall impact of their documentary.
For the Sueños y Esperanzas crew, their initial plans hit some bumps in the road. The "day-in-the-life" concept they had envisioned wasn't unfolding as they had hoped. The planned visual elements and interactions meant to connect various characters weren't falling into place as expected, either. Moreover, the subjects they were following weren't yielding enough content within the tight timeframe they had to work with.
To address these challenges, the crew convened with their Actuality Abroad staff for a crucial brainstorming session. Together they undertook a strategic revision of their plans, finding a more structured narrative approach to their documentary that would remain aligned with their original film idea. The goal was to craft a compelling story that could be realized within the constraints of their remaining filming time.
The Mealflour crew encountered several interruptions and challenges throughout their filming journey. Several times they set out for filming only to encounter setbacks. Afterwards they regrouped to continue the search for essential filming opportunities. Soon they circled back to the family-run worm farm in Quetzeltenango.
Even on returning to the worm farm location they faced surprise obstacles. The absence of their planned translator, who was sick. The realization that they hadn't been told about supplies they were meant to bring. Despite these challenges, the crew remained determined to get their footage. The Actuality Abroad Documentary Coach stepped in to assist with translation and sent the Producer off to pick up supplies, keeping the crew on track. After a rigorous day of filming scenes, interviews, and documenting the intricacies of worm farming in the mountains, they knew they had their footage. Afterwards they enjoyed a delicious meal at La Red, a local changemaker organization that Actuality Abroad filmed with for the documentary "Cooking for the Guatemalan Dream," several years back. 
Editing Week is always a pivotal phase, with Editors dedicated to crafting various versions of the documentary films and pushing toward their completion. At the same time, the rest of the crew members focus on refining their crew's Paper Edit and on enhancing the narratives within their films. Editors build compelling scenes from their footage and check with crews often to line up the sequences to the evolved version in the Paper Edits, before ultimately reaching a picture lock and then a completed film. The week concludes with a special screening event for a local audience, marking the culmination of their efforts.
While there's no rush to the finish line during Editing Week, a palpable sense of relief comes with knowing that a film is finished. Actuality coaches remain stationed at Basecamp throughout the week, providing invaluable support and feedback. They engage in discussions with crews about story revisions, assist in the selection of the best audio clips from interviews with Directors, and offer guidance to Editors for refining their film cuts. Their presence serves as an inspiration, motivating the crews to produce the best possible documentaries.
This week kicks off with BaseCamp buzzing with activity. In San Juan Editors took over desks lining the upstairs balcony, diligently fine-tuning their work while crews assembled in the main gathering room to revise or construct their Paper Edits.
The Mealflour crew began their week by assessing the footage they had collected over the weekend in Quetzaltenango, initially unsure of the how much usable material they had come back with. As they started sorting through their footage and constructing the Paper Edit, it became apparent that they had notably less content compared to other crews. While this might have seemed like a potential disadvantage, the smaller volume of footage enabled them to expedite the sorting process and in determining what story they could craft.
By the close of Monday, they had devised a clear plan and were fully engaged in editing their film.
The Alma de Colores crew started Editing Week with a well-defined plan and a clear vision of their final story. However, they encountered delays due to the challenge of translating the local sign language, Tz'utujil Maya, into Spanish and subsequently into English.
The Dreams & Hopes crew found themselves in a situation where they possessed a substantial amount of footage for their story, but were dissatisfied with the narrative direction it was taking. They made the decision to discard their initial Paper Edit from the wall and replaced it with a new, improved version designed to have a better overall flow in the story. Their Editor worked tirelessly to revise the film timeline during the editing process, while the Cinematographer set out to document additional footage in San Juan to supplement their efforts.
The Eco Spanish School crew continued to refine and narrow down the scope of their story, and they were the final crew to construct a Paper Edit on the walls of Basecamp. Essentially, they lagged one day behind the other crews in terms of revising their narratives.
The Tejiendos Futuros crew dedicated significant time to revising their Paper Edit, potentially more than any other crew. It wasn't until several days into their efforts that they finally hit upon the most compelling version of their film. This intensive revision process left them rushing to finish editing, though, as  they needed to screen the film earlier that the others to ensure that both students and staff at the school could watch it.
Editing week always entails late nights for some crews, highlighting their dedication and hardworking nature. By the final Friday of the Documentary Outreach program, this commitment paid off. The Tejiendos Futuros crew completed their film the day before, allowing them to present it in Panajachel. While they screened their film, the other crews kept on at Basecamp, focusing on last-minute adjustments, titles, and refinements for their films.
In the evening a gathering unfolded at the El Comal Restaurante, drawing a crowd eager for the debut screenings. Inside, chairs were neatly arranged and a projector stood ready. The various film crews warmly welcomed attendees to the event, setting the stage for a memorable evening.
Four films had been meticulously completed, saved, and exported, while a fifth was still in the final stages of exporting as the event got underway, earning it the last spot on the screening schedule. The screening featured a blend of main documentaries and micro-documentaries, offering a diverse range of storytelling.
Each crew stood before the crowd to introduce their main film to the audience and to share their reflections on the meaningful experiences this journey had brought them. Many of the changemaker subjects also rose to eagerly express their thoughts on what the project had meant to them.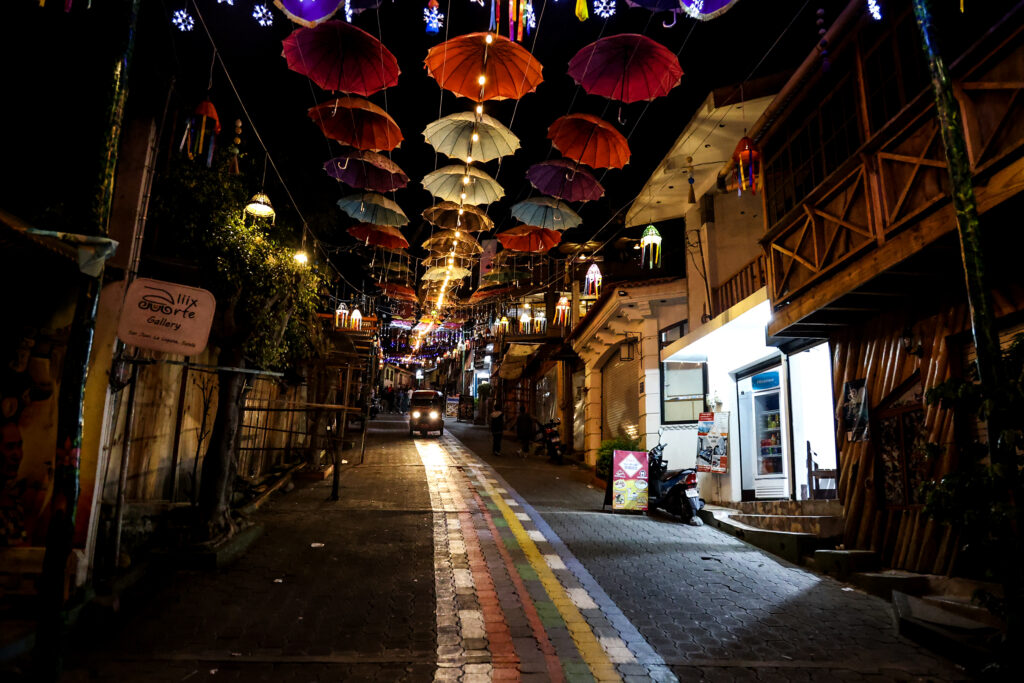 After the films had shown, people embraced, gathered for group photos, and bid their farewells. Then the crew members ventured into the town to celebrate their collective achievements. The following morning, everyone packed their belongings, boarded the shuttle vans, and made their way back to Antigua for a final day of reflection and exploration. From there they were all transported to the airport for their respective flights home, marking the conclusion of their transformative journey.
Below you can view all the films that were produced on this Documentary Outreach to Guatemala. 
"Worm Meals" + "Ketzele Art Gallery" by the MealFlour crew.
"Planting Roots" + "Recharging Energies" by the Dreams and Hopes crew.
"Taking Flight" by the Tejiendo Futuros crew
"Colorful Souls" by the Alma De Colores crew
"Empowerful In Action" + "Beyond The Brush" + "A Catalyst For Change" by the Eco Spanish School crew